'Small hands leading big hands, together let's reduce salt!'
China is the largest developing country in the world, home to one-fifth of the global population. Salt intake in the country is high, with most salt added to food during cooking or at the table, using salty sauces such as soy sauce. High salt intake and high blood pressure are particularly a problem in northern China. Although deaths from cardiovascular disease occur in adulthood, raised blood pressure can start during childhood. Therefore, teaching children about salt and it's effects on health, as well as how to eat less salt, could help prevent high salt intake and high blood pressure later in life.
The School-EduSalt study was a cluster randomised controlled trial, and a novel approach to lower salt intake - the family structure in China means that children can have an influence on the practices of the rest of the family. School-EduSalt educated primary school children about the harmful effects of high salt intake, empowering them to educate their families to lower the amount of salt used at home.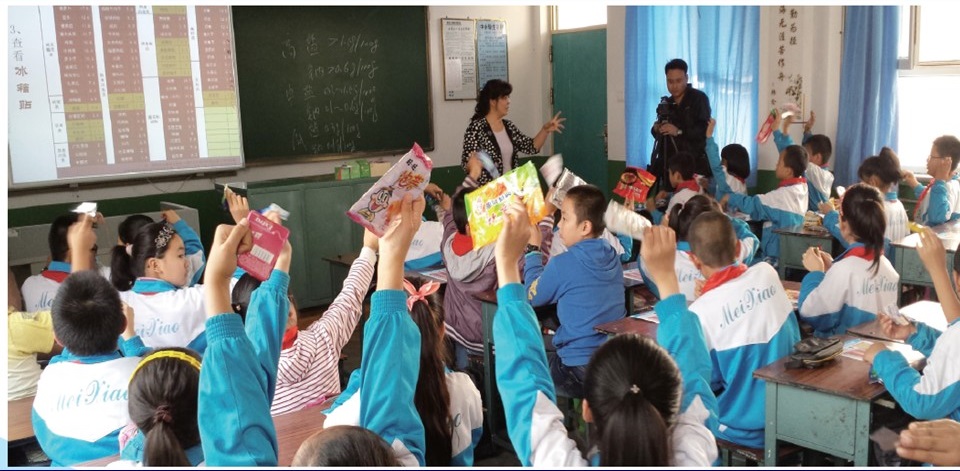 28 primary schools across urban areas of Changzhi, northern China, were involved in the study and the schools were randomised into 'control' and 'intervention'. Almost 280 children (aged approx. 10 years) and over 550 adult family members including parents and grandparents with an average age of 44 years were involved in measurements during the study. Salt intake was measured at the beginning and the end of the study, each involving two consecutive 24-hour urine collections.
Local health educators were trained to deliver salt reduction lessons, and a salt reduction curriculum and materials were developed around the following themes:
the harmful effects of salt on health and the salt reduction target
the recommended level of salt intake
how to reduce salt intake
Usual health education classes were replaced with lessons on salt reduction (40 minute lessons every two weeks, totalling 8 lessons in one school term). Lessons were delivered to all pupils in the class, and homework consisted of emphasising salt reduction messages at home and developing a salt reduction plan for their families.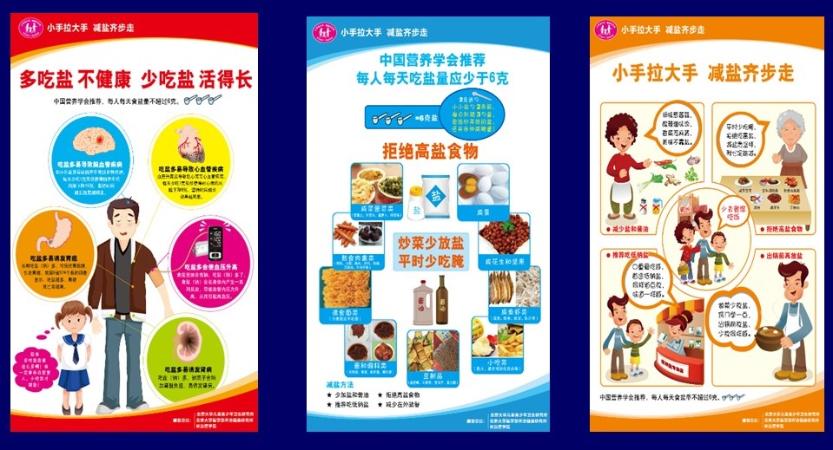 Outcomes
The study was effective, leading to a significant reduction in salt intake of 1.9 g a day (P<0.0001) (or a third of a teaspoon) in children and 2.9 g a day (P<0.0001) in adults (half a teaspoon).
This reduction in salt intake was accompanied by a significant fall in systolic blood pressure of 2.3 mmHg (P<0.05) in adults.
It was estimated that a 2.3 mmHg reduction in systolic blood pressure would reduce strokes by around 9% and heart attacks by around 5%. If this was replicated across China, 153,000 strokes and 47,000 heart attack deaths could be prevented each year.
Further details and results of the study can be found in the following publication:
He, F. J., Wu, Y., Feng, X.-X., Ma, J., Ma, Y., Wang, H., Zhang, J., Yuan, J., Lin, C.-P., Nowson, C., and MacGregor, G. A., (2015). School based education programme to reduce salt intake in children and their families (School-EduSalt): cluster randomised controlled trial. BMJ;350:h770 https://doi.org/10.1136/bmj.h770
Funding and Partners
The UK Medical Research Council awarded £761,888 to the study, to cover September 2012 to September 2015. The study was led by Dr Feng He, based at Queen Mary University of London. The project partners were Peking University, China, The George Institute for Global Health, Changzhi Medical College and the University of Michigan, United States.
Team
Feng He, Principle Investigator
Graham MacGregor
Stephen Jan
Lijing Jan
Yangfeng Wu
Caryl Anne Nowson
Jun Ma
Xiangxian Feng