NEW International Survey Reveals Shocking Levels of Salt STILL Present in Children's Meals and Calls for More ACTION on Salt Now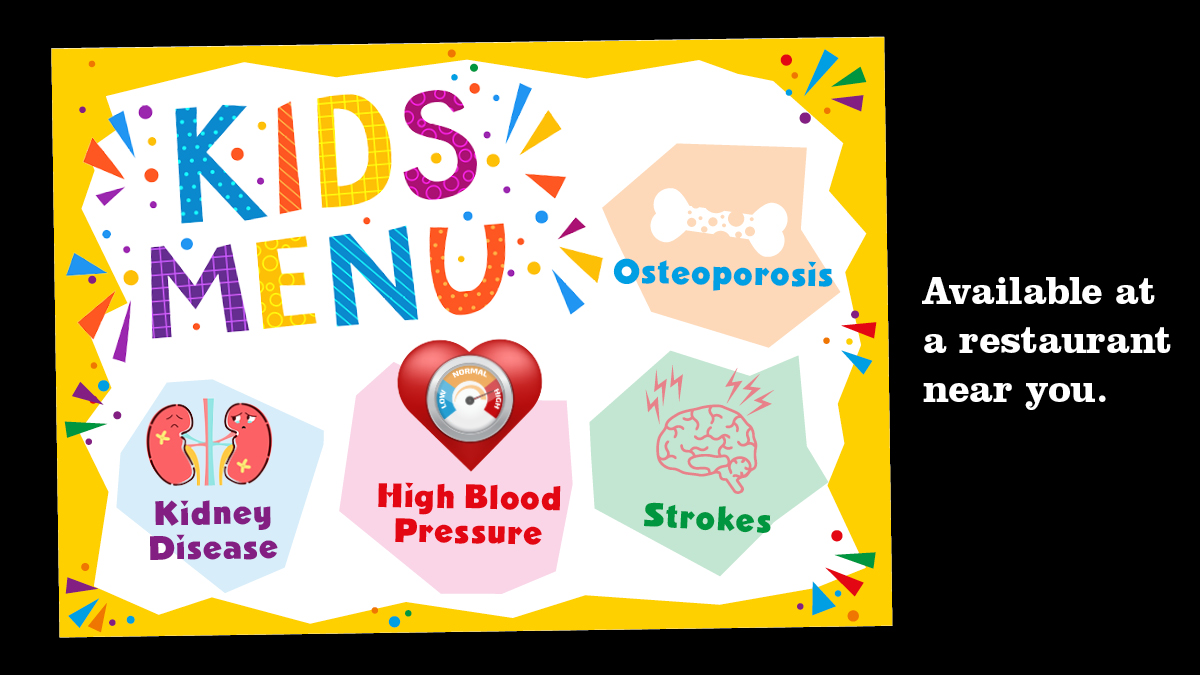 More than a third (39%) of children's meals are HIGH in salt
Saltiest children's meals contain more salt than the daily recommended limit for an ADULT
WASH is calling for better nutrition labelling of children's meals and a renewed effort on salt reduction globally
Click to read the full report: Action on Salt/WASH Survey Report 2019 [PDF 1,571KB]
A new survey1 by World Action on Salt and Health (WASH), based at Queen Mary University of London, reveals that children's meals available at popular fast food chains worldwide STILL have worrying levels of salt, despite a survey of the same category highlighting salt levels back in 20152.
To mark Salt Awareness Week 2019, WASH is calling for improved nutrition labelling for ALL products marketed to children. This follows a similar call by UK group Action on Salt for warning labels on all high salt children's menu items3.
The survey, conducted in collaboration with WASH members in 13 countries, found 39% (133) of the 343 children's meals available from McDonald's, KFC, Burger King and Subway had more than 1.8g salt per portion. This the UK's maximum salt per serve target for children's meals served in the out of home sector4 and also classifies these dishes as HIGH in salt5. Furthermore, 71% of dishes with available data had more than 1g of salt per serve, which is a third of the maximum recommended daily limit of salt for a child aged 4-6 years6.
The saltiest dish was available in the Sultanate of Oman – KFC's Popcorn Chicken meal with fries – with 5.95g of salt per meal – as much salt as 13 bags of ready salted crisps7, and more than the daily recommended limit of salt for an adult! Of the saltiest meals surveyed, many were available at KFC: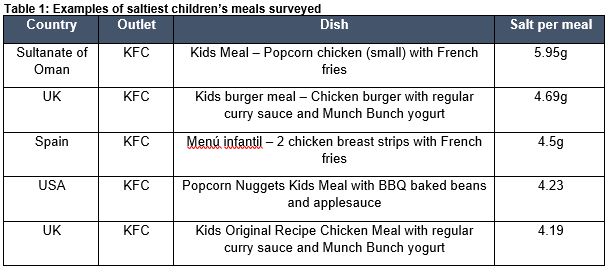 No country is on track to achieve a 30% relative reduction in salt intake by 2025, as recommended by the World Health Organization8, and global companies may be hampering salt reduction efforts by using different recipes in different countries. WASH found a huge variation in salt levels of the same meal depending on the country it is sold in, similar to our 2015 survey.
For example, a McDonald's Cheeseburger Happy Meal sold in Spain, with 3.6g of salt per portion, has three times as much salt as the same meal sold in South Africa (1.08g). This clearly demonstrates the success of South Africa's mandated salt content targets9.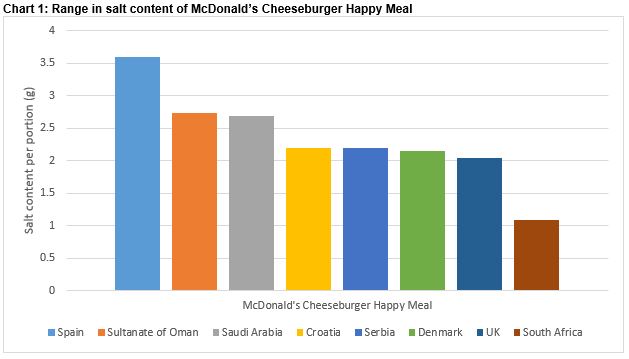 Subway do not have any high salt menu items (data available from UK, USA, Canada and Denmark), with the saltiest items being their Roast Beef 3 Inch sub and Turkey Breast 3 Inch sub, both available in Canada with 1.15g per portion. Although lower salt meals were available from all companies, without nutrition labelling available at the point of sale it is almost impossible for families to find the healthier option. WASH members in China, Costa Rica and Barbados were unable to locate nutrition information for children's meals on the company websites, and information was not provided when requested direct from the companies.

Mhairi Brown, Nutritionist and Coordinator of WASH, explains: "This survey clearly shows the huge variation in salt levels of the same meal depending on where it is sold – if it's possible to make the dish with less salt, then why are companies not using this recipe across all of their markets? The food industry must take ACTION now and address the shocking levels of salt present in some children's meals."
Graham MacGregor, Professor of Cardiovascular Medicine at Queen Mary University of London and Chair of WASH, says: "It is a scandal that the food industry is continuing to produce high salt meals which they then market to children. Global brands like McDonalds, Burger King and KFC must do much more to take salt off their children's menus. The dietary habits formed in childhood track through to adulthood and we must all act now to prevent the next generation from suffering with unnecessary and easily preventable strokes and heart disease"
END
PR Contact
David Clarke: david@rock-pr.com M: (+44) 7773 225516
Notes to editor:
World Action on Salt and Health (WASH) was established in 2005 as the international arm of Action on Salt (formerly Consensus Action on Salt and Health, CASH), and is a global group with the mission to improve the health of populations throughout the world by achieving a gradual reduction in salt intake. WASH has the support of more than 600 members from 100 countries, who are mainly experts in hypertension, cardiovascular disease or kidney disease, but also work in public health and nutrition.
References
Survey details:
WASH members collected salt per portion and per 100g information from Burger King, KFC, McDonald's ad Subway's websites between November 2018 and January 2019, for all meals marked specifically for children on company menus. Data was available in 15 countries - Argentina, Brazil, Canada, Croatia, Denmark, Italy, Kuwait, Peru, Saudi Arabia, Serbia, South Africa, Spain, Sultanate of Oman, UK, USA. A total of 343 meals were collected, including 46 Burger King meals, 137 KFC meals, 133 McDonalds meals and 17 Subway meals. Data correct as of January 2019 – due to reformulation work or menu changes, some meals may have different salt contents upon/after press release date or may no longer be available.
With thanks to the following WASH members for providing data:
Brazil – Eliana Bistriche Giutini, Food Research Centre
Canada – Ellen Burgess, Cumming School of Medicine, University of Calgary
China – Yuan Li, The George Institute China (no data available online/upon request)
Costa Rica – Jaritza Vega Solano, INCIENSA (no data available online or upon request)
Croatia – Sanja Milanovic and Lea Pollak, Croation Institute for Public Health
Denmark – Natasha Selberg, Danish Heart Foundation
Kuwait – Nawal M. Al Hamad and Shahad B. Al-Muneer, Public Authority for Food and Nutrition
Peru – Lorena Saavedra Garcia, CRONICAS
Saudi Arabia – Hessah Abdullah Al-Hussaini, Ministry of Health and Bader Almustafa, Qatif Primary Health Care
Serbia – Dr Milka Popovic, University of Novi Sad
South Africa – Pamela Naidoo, Heart and Stroke Foundation South Africa
Spain – Cecilia Callejo Fernandez, Organización de Consumidores y Usuarios (OCU)
Sultanate of Oman – Salima Almamary, Ministry of Health
UK – WASH
USA – Sara Ribakove, Center for Science in the Public Interest (CSPI)
2. World Action on Salt and Health (2015) http://www.worldactiononsalt.com/news/surveys/2015/
3. http://www.actiononsalt.org.uk/salt-surveys/2019/2019-surveys/salt-warning-as-childrens-meals-in-the-casual-dining-sector-are-getting-saltier-and-failing-to-meet-public-health-englands-targets.html
4. Public Health England's 2017 salt targets https://assets.publishing.service.gov.uk/government/uploads/system/uploads/attachment_data/file/604338/Salt_reduction_targets_for_2017.pdf
5. Department of Health criteria for colour coded labels: Green ≤0.3/100g, Amber >0.3 - ≤1.5g, Red >1.5g /100g, >1.8g/portion for salt https://www.gov.uk/government/publications/front-of-pack-nutrition-labelling-guidance
6. Guidelines for salt intake in children were introduced in the UK's Scientific Advisory Committee on Nutrition's Salt and Health report https://www.gov.uk/government/publications/sacn-salt-and-health-report
| | |
| --- | --- |
| Age | Maximum Salt Intake |
| 0-6 months | <1g/day |
| 6-12 months | 1g/day |
| 1-3 years | 2g/day |
| 4-6 years | 3g/day |
| 7-10 years | 5g/day |
| 11 years and above | 6g/day |
7. Walkers Ready Salted Crisps have 0.46g of salt per 32.5g bag https://www.walkers.co.uk/crisps-range/walkers-crisps/ready-salted
8. World Health Organization Guideline: Sodium intake for adults and children http://www.who.int/nutrition/publications/guidelines/sodium_intake_printversion.pdf
9. Department of Health. Regulations Relating to the Reduction of Sodium in Certain Foodstuffs and Related Matters (Proclamation No. R. 214, 2013). Available online: http://www.heartfoundation.co.za/sites/ default/files/articles/South%20Africa%20salt%20legislation.pdf