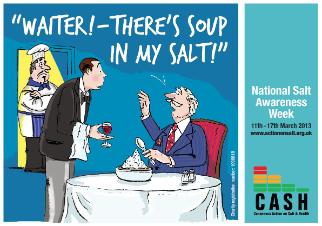 Please visit www.actiononsalt.org.uk for more information on salt reduction activities in the UK
Consensus Action on Salt and Health is a group concerned with salt and its effects on health, supported by 25 expert scientific members.
CASH was set up in 1996 as a response to the refusal of the Chief Medical Officer to endorse the COMA recommendations to reduce salt intake, following the threat of withdrawal of funds by the food industry to the Conservative Party. This view was contrary to the current medical and scientific consensus and we aim to counter these claims with the wealth of scientific evidence, which clearly links high salt intake to ill health
The current target is to reduce salt intake to an average of 6g a day for adults and even less for children, from the current average of 8.6g a day. This reduction will have a large impact on reducing strokes by approximately 22% and heart attacks by 16% saving 17,000 lives in the UK as well as other health benefits for the population.
CASH is successfully working to reach a consensus with the food industry and Government over the harmful effects of a high salt diet, and bring about a reduction in the amount of salt in processed foods as well as salt added to cooking, and the table. To date we have been successful with many supermarkets and food manufacturers choosing to adopt a policy of gradually reducing the salt content of their products, and a Government-financed a campaign to raise awareness of the effects of salt on health.
UK Salt reduction timeline
2013: New Salt Strategy was released by the Department of Health as part of the Responsibility Deal, it aims to revise the 2012 salt targets for industry by the end of the year to encourage companies to reformulate recipes, push the catering and take away sector to do more – by setting new maximum targets for the most popular dishes such as sandwiches and chips, asking companies to help people choose lower salt options – through promotional and other activities; and getting more companies across the food industry sign up to salt reduction.
2012: The Department of Health launches the 'Salt Catering Pledges' as part of the Responsibility Deal and CASH issues a comment. The pledges include three action areas; training and kitchen practice, reformulation of products as purchased by the consumer and procurement of ingredients/food that meets 2012 salt targets.
2012: The Department of Health announces that since the start of the UK's salt reduction policy 10 years ago, salt intake has fallen in adults from 6.5g to 8.1g per day.
2011: The FSA nutrition team transfers to the Department of Health. Andrew Lansley commits to continuing the salt reduction programme through the 'Public Health Responsibility Deal' which outlines the key health commitments made by the food industry. The salt commitments are based on the previously set 2012 targets and involve a further 15% (1g) reduction by the food industry. To date more than 40 companies have pledged to reduce the salt content of their food.
2010: NICE published a report titled 'Prevention of Cardiovascular Disease' which presented salt has the number one recommendation for CVD prevention. The report recommended that salt reduction be accelerated with the aim of achieving an average intake of 6g/day in 2015 and 3g/day in 2025. It also recommended that more emphasis be put on the recommendations for children under the age of 11 to ensure that children do not exceed their age specific recommendations. The food industry needs to continue offering lower salt foods and more low salt options need to be available with out a price increase. The report also provided a financial model that predicted that the salt reduction programme so far has made £1.5billion in savings for the NHS.
2010: The FSA publishes key catering and manufacturer commitments to salt reduction which represents a shift in focus to the out of home sector which had previously been put aside.
2010: The WHO and FSA held a meeting with experts from 33 countries to discuss worldwide salt reduction strategies. The meeting was also attended by key NGO's and food industry. Worldwide salt reduction is considered as important as smoking cessation.
2010: A paper was published which projected the cost benefits of dietary salt reduction on future cardiovascular disease. A paper published in the USA by Bibbins-Domingo et al published in the New England Journal of Medicine makes for a further compelling case for salt reduction throughout the world. The paper emphasises the enormous public health benefits, and medical cost reductions, of salt reduction on cardiovascular disease.
2009: Results from a meta-analysis of prospective studies on salt intake, stroke and cardiovascular disease was published in the British Medical Journal. The analysis, by Professor Strazzullo and Professor Cappuccio, showed that a difference of 5 g a day in habitual salt intake is associated with a 23% difference in the rate of stroke and a 17% difference in the rate of total cardiovascular disease. Based on these results, reducing daily salt intake by 5 g at the population level could prevent 1.25 million deaths from stroke and almost 3 million deaths from cardiovascular disease each year
2008: It became clear that the 2010 targets would not go far enough to reducing salt intake to 6g/day so 2012 voluntary salt reduction targets were set by the FSA. These targets covered 80 categories of food and were more challenging that the 2010 targets.
2008: It was announced that population average salt intake had fallen from 9.5g/day to 8.6g/day. This 10% reduction is predicted to save 6,000 lives every year and represents a massive 19,700 tons of salt that have been removed from our food. The figures were based on 24-hour Urinary Sodium analysis of a representative sample of the UK population.
2006: Salt reduction targets for the food industry were set by the FSA for 85 categories of food. These targets were voluntary, and should have been met by the end of 2010. These were set with the intention of getting the population average intake of salt down to 6g/day based on the model that the food industry would reduce salt content of food by 40% and consumers would reduce a further 40% themselves. These targets failed to take into account food eaten out of the home and imported food.
2005: World Action on Salt and Health (WASH) was set up to bring about salt reductions worldwide, based on the UK programme. WASH now has over 400 members from countries worldwide.
2003: A paper was published, by Professor MacGregor and Dr He, indicating that salt intake should be reduced to 3g/day to achieve the greatest possible benefits to health. The authors predicted that reducing salt from 12g/day to 3g/day would prevent approximately a third of all strokes and a quarter of ischaemic heart disease cases, therefore preventing 20,500 deaths from stroke and 31,400 deaths from ischaemic heart disease every year in the UK alone.
2003: SACN published a report on salt and health which concluded that the evidence for a direct association between salt intake and blood pressure is much stronger than it was when the COMA reports were written in 1994. The report recommended that salt intake be reduced to less than 6g/day for adults and reported that no evidence was found to suggest that reducing salt intake to this level would have any detrimental effect on health. The report also provided a breakdown in maximum recommendations for children under the age of 11. The report highlighted that while it is important for individuals to make changes to their personal habits it is also important for the food industry and catering industry to make reductions as well.
2002: WHO publish a report 'preventing risks and promoting a healthy lifestyle' which emphasised the global burden of high blood pressure and that it alone is responsible for 50% of cases of cardiovascular disease. The report also went on to discuss the high concentrations of salt found in many household foods such as bread, breakfast cereal, sausages and soup. As a result, it was established that the salt intake in industrialised counties is very high, with more than 75% of salt coming from processed foods.
2002: The Food Standards Agency committed to a nationwide salt reduction initiative to reduce the UK salt intake to 6g/day. The initiative has since included famous campaigns such as 'Sid the slug', 'Check the label' and 'Is your food full of it?'.
2001: In the 2001 'Chief Medical Officer Annual report', the CMO (Liam Donaldson) gave his support to achieving a national salt target of no more than 6g/day. He said "A major initiative by the food industry to reduce the salt content of processed and catered foods could help save lives in the long term. Immediate moves to provide clear information to consumers on salt and the sodium content of food products would bring major benefits". He also highlighted the significant evidence available in support of salt reduction as an important way to reduce blood pressure.
1996: CASH was set up by Professor Graham MacGregor and 22 expert scientific members due to the refusal of the Chief Medical Officer (CMO) to endorse the COMA recommendations to reduce salt intake
1994: A COMA report titled 'Nutritional Aspects of Cardiovascular Disease' was published which looked at the causal relationship between salt intake and both the level of blood pressure and the rise in blood pressure with age. It recommended that salt intake should be reduced gradually from 9g/day to 6g/day and that food manufacturers, caterers and individuals should explore and grasp the opportunity for reducing salt content of food and meals. At the time the Chief Medical Officer accepted all recommendations made in the report except for the salt recommendations. It is not known why this is, but it is thought to be due to pressure from the food industry.
1991: COMA published a report on 'Dietary Reference values for food, energy and nutrients for the United Kingdom' which set Reference Nutrient Intakes for salt and well as other nutrients based on a risk-benefit analysis. The RNIs are considered suitable for 97% of the population. The RNI for sodium was set at 1600mg which, assuming all sodium is from sodium chloride, equates to 4g of salt. The report considered that "current sodium intakes are needlessly high and we caution against any trend towards increased intakes".