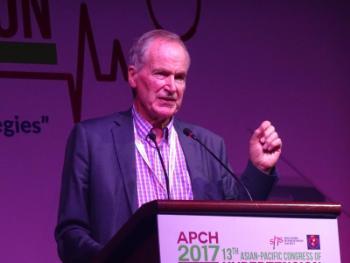 Graham MacGregor CBE - Chairman and Professor of Cardiovascular Medicine
Phone: +44 (0)20 7882 6217 - Mobile: +44 (0)7740553298 - email: g.macgregor@qmul.ac.uk
Graham MacGregor is Professor of Cardiovascular Medicine at the Wolfson Institute of Preventive Medicine (Barts & The London) and Honorary Consultant Physician at St George's Hospital, London. Professor MacGregor set up Action on Salt in 1996 and WASSH in 2005 and is chairman for both. He is also chairman of the Blood Pressure Association, sits on the board for the World Hypertension League and recently served as President of The British Hypertension Society.
Professor MacGregor's research work has focused on the mechanisms underlying the rise in blood pressure in hypertension, the importance of the renin-angiotensin system, and the influence of salt and potassium intake on health. Professor MacGregor has authored many scientific articles on various aspects of blood pressure and cardiovascular medicine.
Katharine Jenner - Campaign Director
Phone: 0207 882 6018 Email: k.jenner@qmul.ac.uk
Katharine studied for a BSc in Biological Sciences at the University of Exeter, initially following a career path in communications. Having obtained a MSc in Public Health Nutrition at the University of Southampton, Katharine has been working on, and is now responsible for the running of, the salt reduction campaigns at Action on Salt and WASSH since 2007.
Katharine is also a visiting lecturer on nutrition at several UK Universities and delivers healthy eating sessions for people living with HIV. Katharine is also Chair of the Campaign for Better Hospital Food, and Chief Executive of our sister charity, Blood Pressure UK.
Mhairi Brown RNutr (Public Health) - Programme Manager
Email: mhairi.brown@qmul.ac.uk
Mhairi manages the WASSH programme, with a particular focus on our research projects in Malaysia, and is also responsible for developing the influence and profile of Action on Salt and Action on Sugar to gain impact with Parliament, policy and decision makers. Having studied for a BSc in Chemistry with Environmental and Sustainable Chemistry at the University of Edinburgh, Mhairi completed a Masters in International Public Health Nutrition at the University of Westminster. She is a visiting lecturer on nutrition policy at several UK universities and is also a Trustee of the Association for Nutrition.
.
Hattie Burt - Policy and Communications Officer
Email: h.burt@qmul.ac.uk
Hattie studied for an MA in Economics at the University of Cambridge, before following a career in project management, initially at Transport for London, and subsequently at a technology start-up. Now pursuing a career in nutrition, Hattie has completed an MSc in Human Nutrition at St Mary's University, Twickenham and is a Registered Associate Nutritionist. Hattie is involved in various WASSH projects including salt reduction in the Eastern Mediterranean Region and Malaysia.