This year for World Salt Awareness Week, WASH focussed on the forgotten dangers of salt in our food, and encouraged everyone to eat less than 5g of salt per day (WHO recommendation). All WASH members were invited to support the week, and call for more action from the food industry, government, catering sectors, health professionals and general public. WASH disseminated a poster via the WASH website, as well as via WASH members and social media. Below is a brief account of some of the activities that took place around the world.
USA
The American Heart Association (AHA) co-hosted a Twitter chat with the Centre for Disease Control and Million Hearts called #SaltChat which reached 65.2M people, more than double the reach of their 2016 Twitter chat. They also launched a new action as part of their existing sodium campaign, which encourages the public to write to restaurants and food manufacturers to ask for healthier options (full details available here: http://act.sodiumbreakup.heart.org/d5x0cvY). Between 21st March and 29th March, 3,194 letters were sent to the food industry. The AHA sent sodium-related resources to 3,966 registered dietitians and created a new video (available here: https://youtu.be/6rnGeWH7Jek), as well as promoting a new infographic on 'clean eating' (available here: https://sodiumbreakup.heart.org/what_is_clean_eating)
The Centre for Science in the Public Interest (CSPI)produced an issue brief:
They promoted this via their twitter page with a GIPHY celebrating World Salt Awareness Week, in partnership with WASH. This tweet (below) had 42.4K impressions. They also participated in the American Heart Association's Salt Chat on Twitter.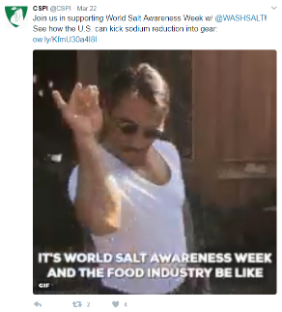 KUWAIT
The Public Authority for Food and Nutrition produced 10,000 copies of flyers in both Arabic and English to distribute in Trolly, a widespread convenience store in gas stations in Kuwait, as well as in Caribou Coffee busiest outlets and Kuwait Flour Mills bakeries. They also produced a hanging banner which was displayed at the largest mall in Kuwait/The Middle East (The Avenues). Furthermore, the Authority designed a short (1:28 min) awareness video, which was broadcast on Kuwait TV twice during interviews with dietetic colleagues.
JAMAICA
The Heart Foundation of Jamaica had a pull-up banner made for Salt Awareness Week which was placed in the lobby of their building for all patients and visitors to view.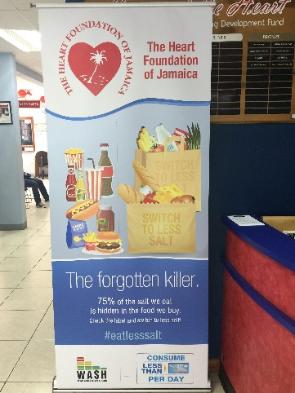 They also published a press release, which was picked up by The Jamaica Gleaner: http://jamaica-gleaner.com/article/health/20170322/salt-forgotten-killer, and they posted about World Salt Awareness Week on Twitter and Facebook each day during the week.
MALAYSIA

The Malaysian Ministry of Health published a press release which highlighted the link between salt and hypertension, and the risk of kidney failure, cancer, heart disease and stroke. The press release also referred to the current salt intake of the staff at the Ministry of Health, sources of salt in the diet, current strategies to reduce salt intake, such as reformulation.
The Ministry conducted a product survey with the National University and Putra University. They will analyse the data and present to the technical working group to contribute to baseline data and help with reformulation activities. They also distributed factsheets and guidelines on how to celebrate WSAW to all 15 health state departments and did TV and radio interviews (TV interview available here: https://youtu.be/edASDFdLMNQ).
Furthermore, the Ministry created an e-banner and infographics (below) which they promoted on their website, Facebook and other social media. Combined, they gained 3112 likes, 95 comments and 1889 shares
POLAND

The National Food and Nutrition Institute (NFNI) published a press release on two of their websites (NFNI and the National Centre of Nutritional Education) which gained national coverage. The press release was based on knowledge of the Institute's experts, including Prof. Miroslaw Jarosz (Director of NFNI) and included:
health effects of excessive salt consumption
salt consumption in Poland in comparison to WHO recommendations
food products high in salt to avoid
differences in salt content of products
tips on salt reduction
importance of education and its influence on dietary habits
The press release also mentioned WASH, with a link to the WASH website.
SOUTH AFRICA
The Heart and Stroke Foundation South Africa (HSFSA) held a radio salt challenge to promote their Salt Calculator. Their social media activities (@SAHeartStroke, www.facebook.com/HeartStrokeSA/) addressed 3 key areas:
How does salt affect our health
Where salt in the South African diet comes from
How to cut down on salt in our diets
They increased their following on social media by tagging other health bodies, corporations and industry leaders and undertook paid boosting of their posts to drive a larger audience to use the salt calculator.
HSFSA's Dietician Gabriel Eksteen was featured on the Expresso Show and SABC News. The HSFSA performed an analysis of the reach their messages during World Salt Awareness Week had in different types of media.
Below are highlights of this analysis:
| | | |
| --- | --- | --- |
| Type of Media | Headline | Reach/Readership |
| Newspaper | Watch out for hidden salts | 20,079 |
| Newspaper | Health expo focuses on kidney disease | 259,974 |
| Newspaper | The Citizen (Johannesburg Edition), City - The good and bad regarding salt | 437 |
| Online | Watch out for hidden salts | 142403 |
| Online | Salty South Africa – are we doing better after salt legislation? | 47510 |
| Online | South Africa's love affair with salt is slowly killing us | 21600881 |
| Online | Many South Africans eat 8.5g salt daily | 25745903 |
| Radio | Health Warnings about too much cool drinks and salty foods | 274 |
| Radio | Differing Opinions on Salt Required in Diets | 175 |
| Radio | South Africans still consuming too much salt | 281 |
| Radio | South Africans are consuming too much salt : HSF | 2,621,000 |
| TV | Salt health awareness week with Heart and Stroke Foundation | 221,919 |
| TV | This week marks Salt Awareness Week | 598,711 |
Free community blood pressure screening was offered in the Cape Town, Durban and Port Elizabeth regions, and World Salt Awareness Week was addressed at the HSFSA sponsored 'Mended Hearts' meetings. Furthermore the HSFSA produced infographics and publicised these, along with the WSAW poster, on social media and their website:
COSTA RICA
The Costa Rican Institute of Research and Teaching in Health and Nutrition (INCIENSA) launched two educational videos (below) which were disseminated through social media, the Ministry of Health, PAHO, NGOs in the country and Latin American countries participating in the project 'Scaling up and evaluating salt/sodium reduction policies and programs in Latin American countries':
https://www.youtube.com/watch?v=I1JjuSrrANc
https://www.youtube.com/watch?v=8Dj-jTjqgH4&feature=youtu.be
INCIENSA staff gave interviews about World Salt Awareness Week on the 'Café Nacional, Vivir Pura Vida' program on SINART (National Radio), the 'Semillas y Saberes program on University Radio UCR. World Salt Awareness Week was also mentioned in the International Development Research Centre (IDRC/CDRI) Newsletter for the Latin America and Caribbean Regional Office, and their poster was shared through social media, public institutions and important NGOs in the country.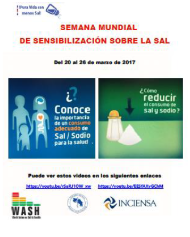 SAUDI ARABIA
The Ministry of Health in Saudi Arabia produced a short film for the public about the dangerous effects of salt on health, which was publicised on their website and social media channels:
https://twitter.com/SaudiMOH/status/846049995530866692
FIJI
The National Food and Nutrition Centre (NFNC) in Suva held an event to mark the beginning of World Salt Awareness Week which was attended by more than a thousand students in the Central Division. The NFNC also provided technical updates for the Parliamentary Speakers Debate on NCDs on the 27th March, as well as providing input to the Fiji Salt In Action (FSIA) Project that was handed over by the Prevention of Obesity and Non-Communicable Diseases (C-POND), Fiji National University to the Ministry of Health and Medical Services.
Furthermore a television advertisement on 'Hidden Salt' was developed, which was aired in February, in order to build awareness beyond WSAW. This ad continues to be aired weekly in a vernacular TV Program that the NFNC co-sponsors and provides nutrition advice on.