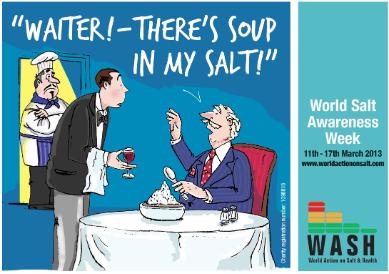 WASH will be holding it's 6th World Salt Awareness Week on Monday 11th – Sunday 17th March 2013. We will be asking for 'Less Salt Please', showing how everybody, including chefs, can use less salt and still enjoy the great flavour of their food.
Many people now know that eating too much salt is bad for their health and are looking to cut down. However, whilst you can take control of your salt intake when preparing food at home by reading the labels and not adding salt, when eating out out of the home it can be difficult to know where to start. It is much harder to eat less salt when eating food prepared by other people, such as chefs in restaurants, cafes, canteens, takeaway and fast food venues – not to mention recipe suggestions in cook books. These foods can contain a lot of hidden salt, and without labels on these products, it is very hard to make a healthier choice.
In this years National Salt Awareness Week, we showed you how to take control of the salt in your own food preparation, by simply using less salty and more tasty ingredients, as well as adding less salt during cooking and at the table. We highlighted to the catering industry, chefs and others involved, the importance of adding less salt to our food and the long-term health implications of eating a high salt diet.
Twenty two countries took part in the 6th annual Salt Awareness Week, including Australia, Pakistan, Poland, Iran, the Pan American Health Organisation, Italy and Lebanon.
If you were involved I would be delighted to hear how activities went.
Please Download 2013 Poster [PDF 2,221KB] to download the evaluation of the week
For more details on how to participate in World Salt Awareness 'Get Involved'