World Salt Awareness Week 2018
Our 11th World Salt Awareness Week will take place Monday 12th - Sunday 18th March 2018!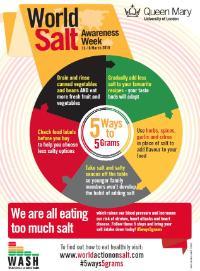 Many people are aware that eating too much salt is bad for their health, but think that it's only a cause for concern in our later years. This isn't true, as eating too much salt during childhood increases blood pressure which then tracks into adulthood and later life, increasing the risk of strokes and heart attacks. That's why it's so important to reduce salt intake across all ages. By doing so we can reduce our risk of heart disease and avoid the unnecessary and extortionate healthcare costs associated with treatment.
However, it is looking increasingly unlikely that WHO member states will reach their target of a 30% reduction in population salt intake by 2025. Therefore this World Salt Awareness Week, we will be reminding the world of the harmful effects of eating too much salt and highlighting how the salt present in everyday foods can really add up. We also encourage the public to play their part and make simple changes to their eating and purchasing habits, and will be providing 5 ways to 5 grams - simple actions you can take to bring your salt intake, along with your family's intake, down to safer levels.
Through this collaborative effort we are sure to improve diets, and in doing so save many more lives and millions of pounds in health care costs. If we can all work together towards bringing salt intake down to 5 grams per day, we could prevent 1.65 million deaths from cardiovascular disease each year - so let's use World Salt Awareness Week to reinvigorate governments, the food industry and our communities in their salt reduction efforts!
In the UK we will also host a Parliamentary Reception at the House of Commons to discuss the future of salt reduction in the UK, with attendees from the Department of Health, NGOs and the food industry.
How will you get involved?
Help us to spread the word about salt and its effects on health by organising your own event with your government or your community, write to your health minister to ask what action they will take on salt, write to your favourite food brands and ask if they will reduce salt levels, or even send out a press release (we will prepare one for you!). Have a look at the activities which have taken place previously for ideas, and remember to let us know what you plan to do in 2018!
More details will be released in the coming weeks, please check back soon and also follow us on Twitter @WASHSALT for updates.