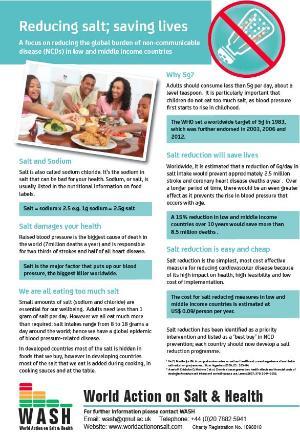 Our factsheet sets out the case for salt reduction in low and middle income countries (LMICs), and details the steps necessary to develop and implement a salt reduction programme in LMICs:
Gather the support of scientific experts and highly regarded health and consumer organizations. They can help you engage with the public and politicians.
Quantify the current salt intake in your country (ideally using urinary-sodium analysis). You can then estimate the health benefits of a salt reduction programme.
Identify the biggest sources of dietary salt in your country. In many low and middle income countries the main sources of sodium include salt and condiments containing monosodium glutamate which are added to food during cooking or prior to eating to enhance flavour. In high income countries, the majority of salt comes from 'processed foods' e.g. Bread, meat, cheese and sauces.
Develop a policy strategy. Include the scientific rationale for salt reduction and the actions required by government, industry and individuals.
Engage the public, politicians and the food industry. Once the salt reduction strategy has been developed, disseminate the policy statement through the media to raise awareness of the benefits to your country's health.
Click to download the WASH Factheet: Reducing Salt, Saving Lives in Low and Middle Income Countries [PDF 1,575KB].