ASC is led by QMUL and TGI (China), in partnership with several Chinese governmental organizations including three institutions from Chinese Centre for Disease Control and Prevention (China CDC):
Division of Health and NCD Control and Community Health (NCD Division)
National Centre for Chronic and Non-communicable Diseases Control and Prevention (NCD Centre)
National Institute for Nutrition and Health (NINH)
in addition to the Chinese Centre for Health Education (CCHE) and China National Centre for Food Safety Risk Assessment (CFSA).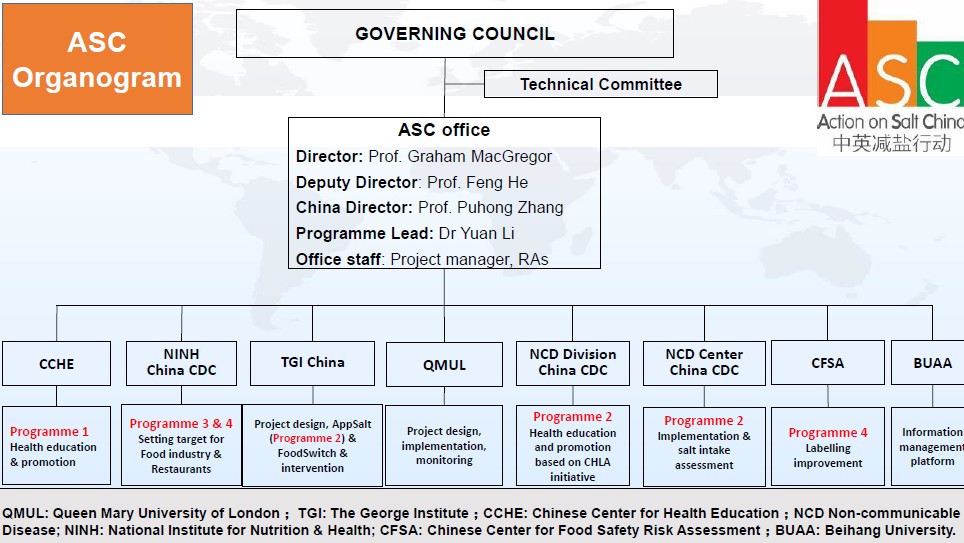 ASC Work Programs
Aiming to establish and evaluate a set of salt reduction intervention packages targeting different populations, ASC will design and implement four cluster randomised controlled trials (RCTs). These four RCTs include:
Application-based Intervention Study (AIS) This study will use a mobile app to deliver messages reinforcing and maintaining lower salt intake in schoolchildren and their families
The Restaurant-based Intervention Study (RIS) This study will target consumers, cooks, and managers in restaurants to lower salt added during cooking
The Housewife-based Intervention study (HIS) This study facilitates family chefs to reduce the amount of salt used while cooking at home
The Comprehensive Intervention Study (CIS) This study will evaluate all the aforementioned interventions in real-world administrative areas.
Currently, these RCTs are being carried out in 33 study sites across 6 provinces of China. These four RCTs will last for 1 year, followed by a nation-wide implementation in China. The effects will be mainly evaluated by a 24-h urinary sodium test among 5560 participants.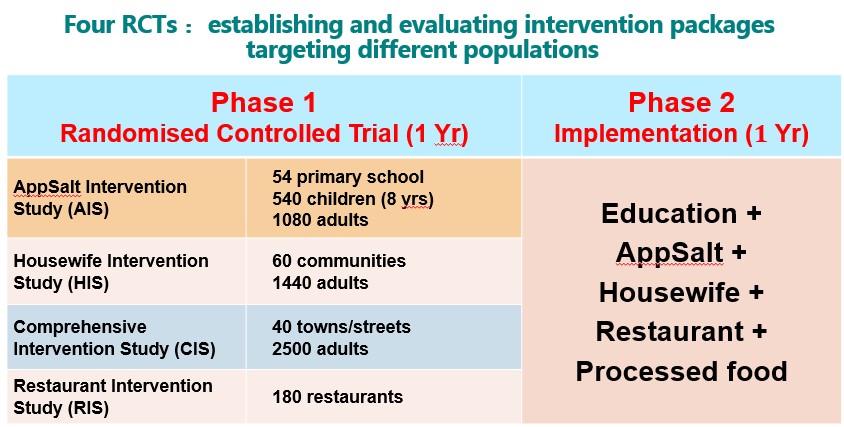 ASC will develop a comprehensive Information Management System to support the four RCTs. This information management system includes a series of innovative m-health (mobile health) tools, such as the Electronic Data Collection (EDC) system, a web-based program management system and the mobile application intervention tool (AppSalt). AppSalt will focus on salt reduction through education, target setting, monitoring, evaluation, decision support and management and is the first mobile intervention tool being tested in China and the world. It aims to achieve a progressive lower salt intake for long term. If successful, AppSalt could be widely used as an effective approach to reduce salt intake by many people in China and worldwide.
ASC will also support the Chinese government to improve national food safety standards in relation to salt reduction, promote reformulation by setting salt target for processed food, promote front of package nutrition labelling.
In addition to the above work programs, ASC will also launch public health campaigns, especially during the annual World Salt Awareness Week, to engage the food industry and catering sector, media and the general public to take joint action on salt reduction. The progress and outcome of ASC program are being delivered and disseminated through various communication tools, such as newsletter, website, press release and social media in China.