Formulas used to estimate salt intake alter sodium-mortality relationship
Published:
Click here to view the full paper
New research from WASH member Prof Feng He, WASH Chair Prof Graham MacGregor and colleagues from the Harvard T.H. Chan School of Public Health, University of Calgary, the U.S. Centers for Disease Control and Prevention and Brigham and Women's Hospital, Harvard Medical School, has assessed the impact of formulas on the estimation of sodium intake and its association with mortality. The paper was published in the AHA journal Hypertension.

The team used data from the Trials of Hypertension Prevention (TOTP) and assessed the impact of sodium intake on all-cause mortality, in addition to the accuracy of different estimates of sodium intake, by comparing the estimates to multiple non-consecutive 24-hour urinary sodium measurements (the gold standard method of evaluating sodium intake). Three commonly used formulas for estimating sodium intake from urinary sodium concentration were assessed:
Kawasaki
Tanaka
INTERSALT
Results highlighted that the estimated sodium intakes from all three formulas were systematically biased with overestimation at low sodium intake and underestimation at high sodium intake. While there was a significant direct linear association between the average measured sodium intake and mortality, there appeared to be a J-shaped or U-shaped relationship for the average estimated sodium intake by ALL formulas.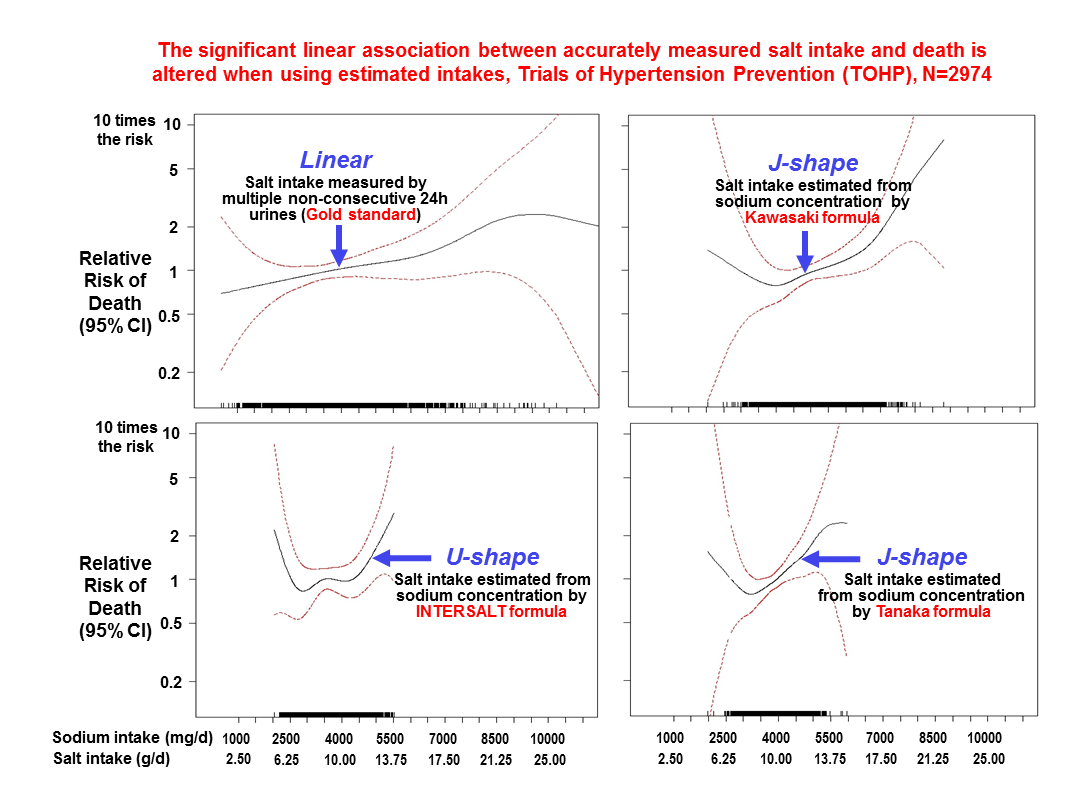 These results demonstrate just how important it is to ensure that accurate sodium intake measurements are used in research relating to health outcomes, to inform public health policy, as the three formulas assessed appear to be related to mortality independent of sodium.

Lead author Feng He, Professor of Global Health Research at Queen Mary University of London, said:
"This important study shows that inaccurate assessment of salt intake is leading to unnecessary confusion over the link between salt and health. The totality of evidence has long demonstrated that eating too much salt is damaging for health and that reducing salt intake is one of the most cost-effective measures to prevent heart disease and stroke. It is time to end the salt debate and allow robust research to inform public health policy".

Prof Graham MacGregor, Chairman of WASH, said:
"Poor quality evidence should not be considered as part of the evidence base linking salt and health. Salt reduction will have huge benefits for health and economies around the world and countries must now focus on developing strategies that will lead to a reduction in salt intake across the whole population."